NATIONAL SERVICE SCHEME
Name of the committee: National service scheme (NSS)
National Service Scheme, under the Ministry of Youth Affairs & Sports Govt. of India, popularly known as NSS was launched in Gandhiji's Birth Centenary Year 1969, in 37 Universities involving 40,000 students with primary focus on the development of personality of students through community service. From its inception, more than 3.75 cores students from Universities, Colleges and Institutions of higher learning have benefited from the NSS activities, as student volunteers.
Motto of NSS: Not me but you
The motto of NSS is "NOT ME BUT YOU" which reflects the essence of democratic living and upholds the needs for selfless service.
Aim of NSS
It aims at the involvement mainly of undergraduate students on a voluntary basis in various activities of social serviced and national development which while making a contribution to socio-economic progress would also provide opportunities to the students to understand and appreciate the problems of the communities, awaken social consciousness and inculcate in them sense of dignity of labour. There has been a great deal of enthusiasm among the students in various programmers taken up under the scheme. At the same time, there has been a demand from several quarters that opportunity should be provided to the youth going out of the universities and colleges to engage themselves on a whole time basis for a specific period in activities of social and national service.
College NSS
The College has two units of NSS about 200 students are involved in the NSS activities under the guidance of two trained programme officers.
The National Service Scheme popularly known as NSS was launched in Mahatma Gandhiji's centenary year 1969.
The main aim of NSS is to develop student's personality through community service and to inculcate the sense of nation building.
Principal – Chairperson
Some staff members with social service back ground.
NSS Programme Officer –Member secretary.
NSS Unit-I
Name

Designation

G.Pavani Devi

Lecturer in Economics

Convener

N.P.V.L.Devi

Lecturer in Commerce

Member
NSS Unit-II
Name

Designation

P.Leena

Lecturer in Chemistry

Convener

Dr.M.Sulakshna

Lecturer in Botany

Member
Objectives
To develop among themselves a sense of social and civic responsibility.
To develop leadership qualities and to practice national integration.
To identify the needs and problems of the community and try to solve them.
To enable the students to understand the community in which they live and work.
Functions
To prepare the NSS Programme for the year.
To evaluate the work of the college unit.
To enlist the student participation.
To receive reports of various project sub-committees of NSS.
Nss Programmes
The main intention of NSS programme is to change the attitude of volunteers through various activities within the college and society.
The NSS programmes are:
Regular activities
Special Camping programmes
Other programmes
NSS Recent Activities
Activities of NSS for the academic year 2020-21 are as follows
1. AIDS day rally was conducted on 01.12.2020 and NSS volunteers attended National level virtual event conducted by APSACS Vijayawada. The theme of World AIDS Day is-Global solidarity, shared responsibility.
2. A rally was conducted on 02.12.2020 to observe "National pollution control day" and an Online quiz on National pollution control day was conducted in which 151 people participated and 135 got e-certificates.Also a guest lecture was organised, Dr. D.Chenna Rao was the resource person for it.
3. A guest lecture was organised on 05.12.2020 to observe "National soil day" and smt. G.N.R.S. Sujatha, lecturer in charge, Department of botany, was the resource person.And also an Online quiz was conducted in which 134 people participated and 113 got the e-certificate.
4. Guest lecture was arranged on 25-01-2021 to celebrate "National Girl Child Day" and Smt.P.Sredevi, Advocate, kakinada, was the resource person.India celebrates National Girl Child Day each year on the 24th of January. The day, an initiative of the Ministry of Women and Child Development, focuses attention on the need to address the unique challenges girls face in Indian society due to gender biases.
5. Guest Lecture was organized to commemorate the 125th birthday of Subash Chandra Bose on 23-01-2021.
6. National Voter's Day is celebrated in India on 25th January,2021 and a rally was organized.
Activities conducted in 2018-19 - Report
Activities conducted in 2019-20 - Report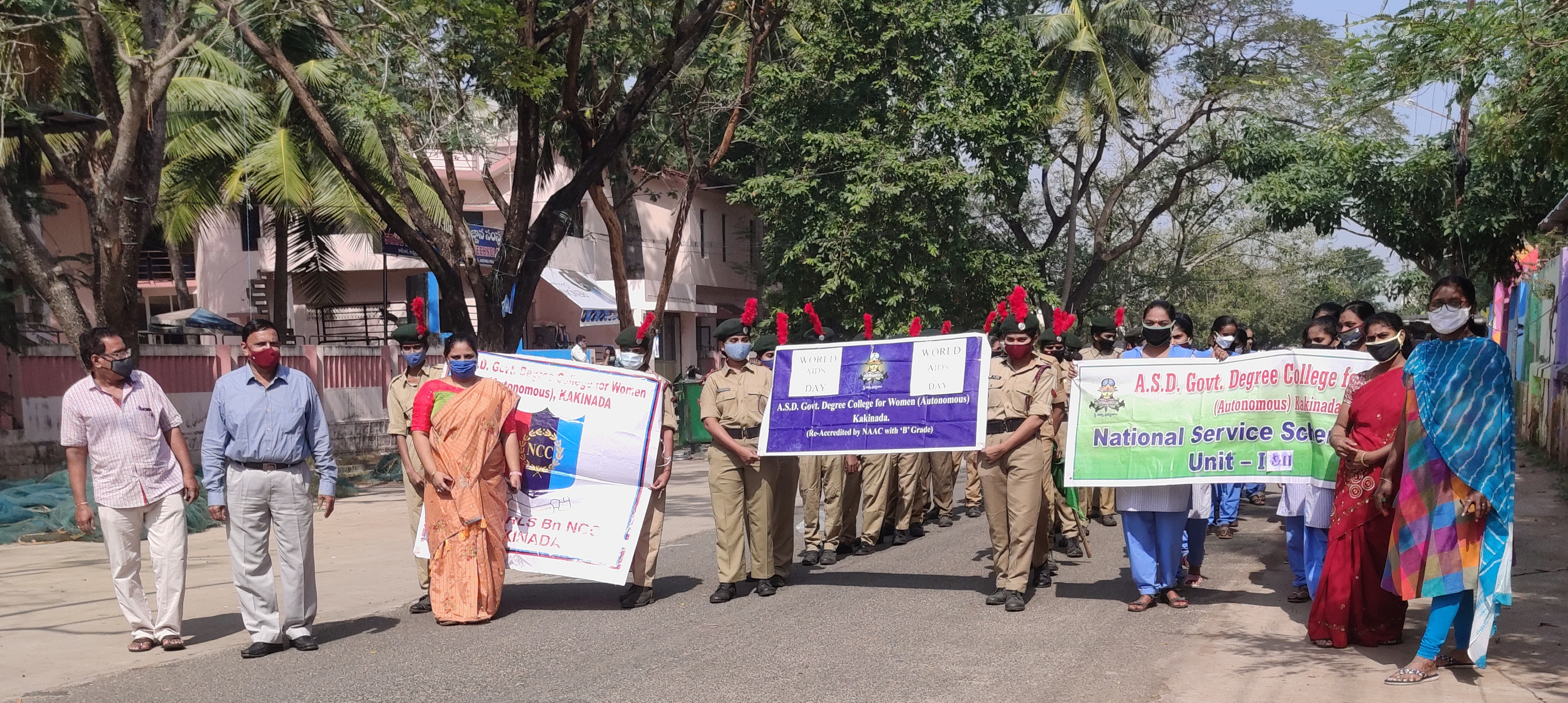 AIDS day rally on 01.12.2020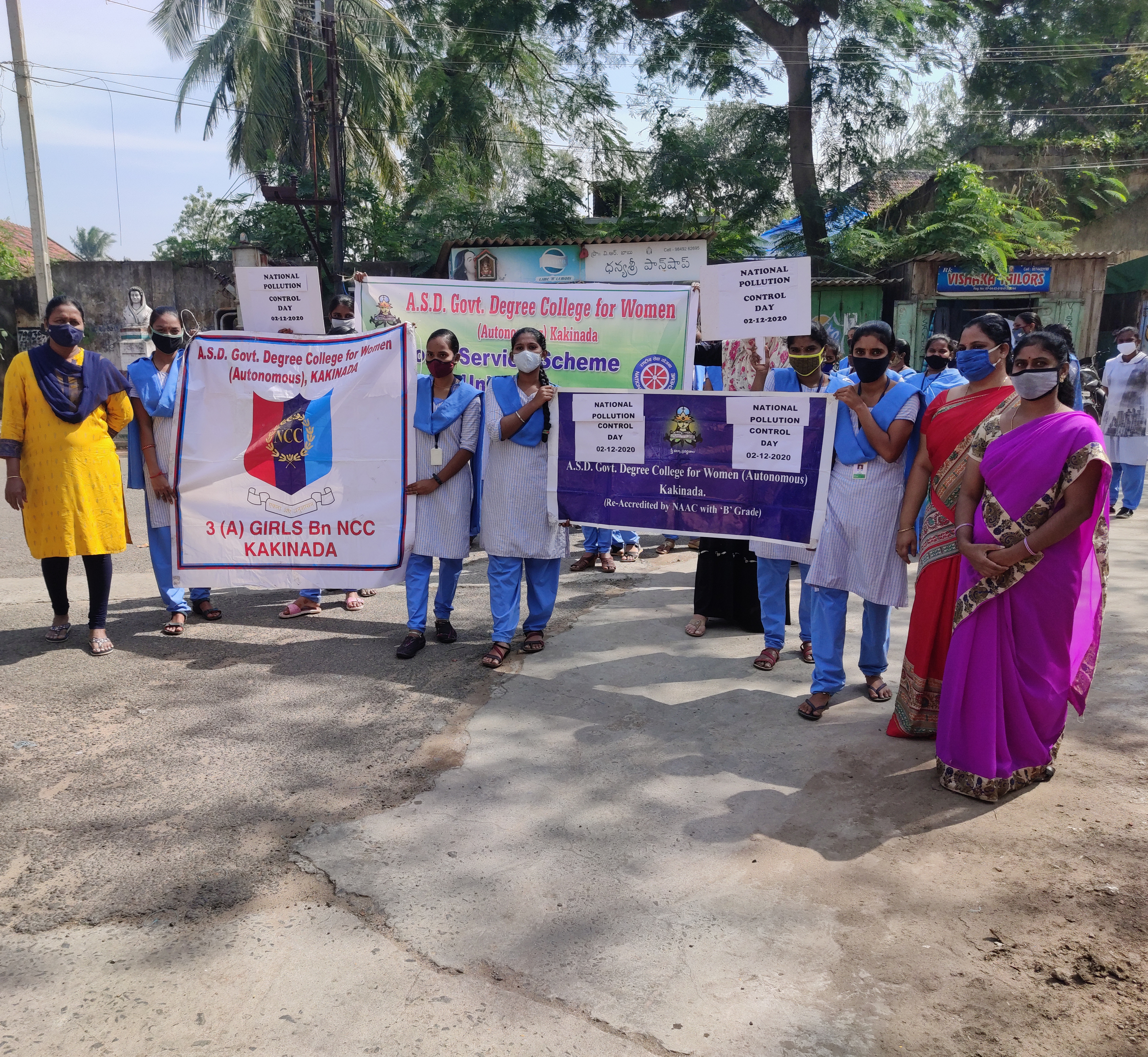 Pollution Control Day Rally
Guest Lecture on National Soil Day, 05-12-2020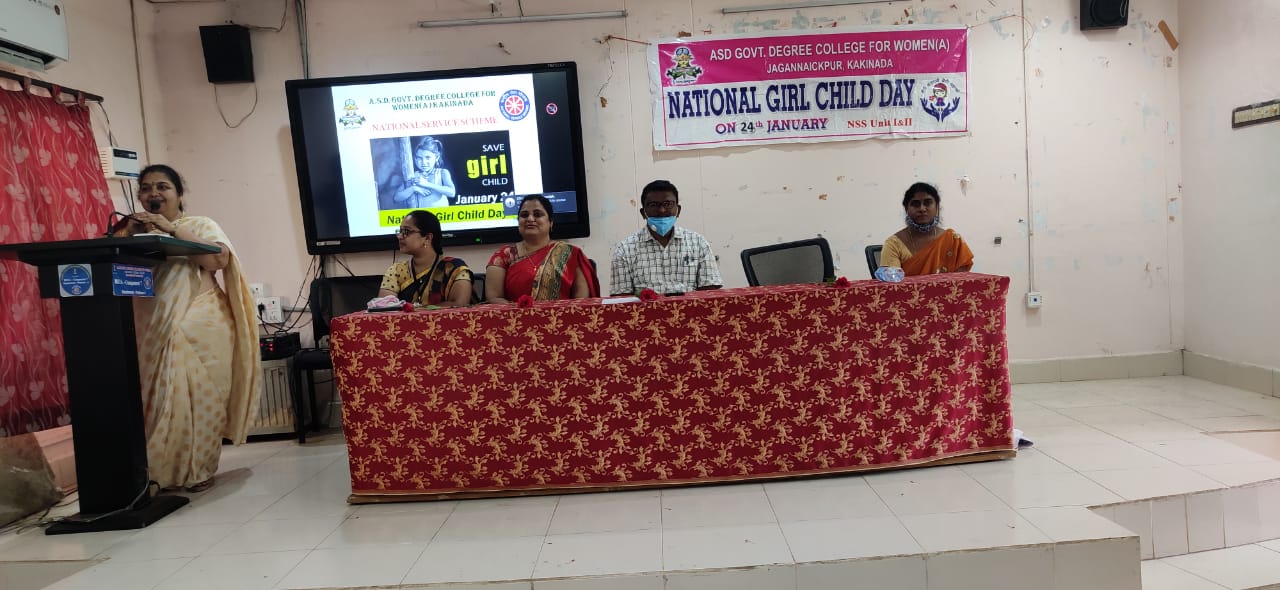 National Girl Day Celebrations on 25-01-2021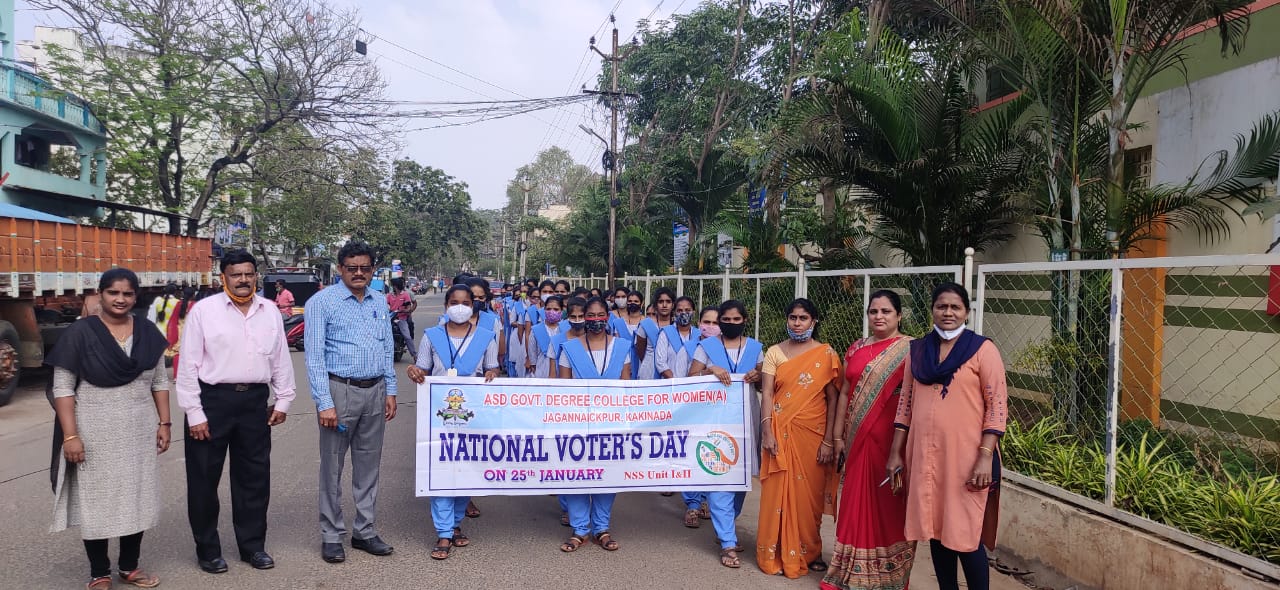 Rally on National Voters Day, 25-01-2021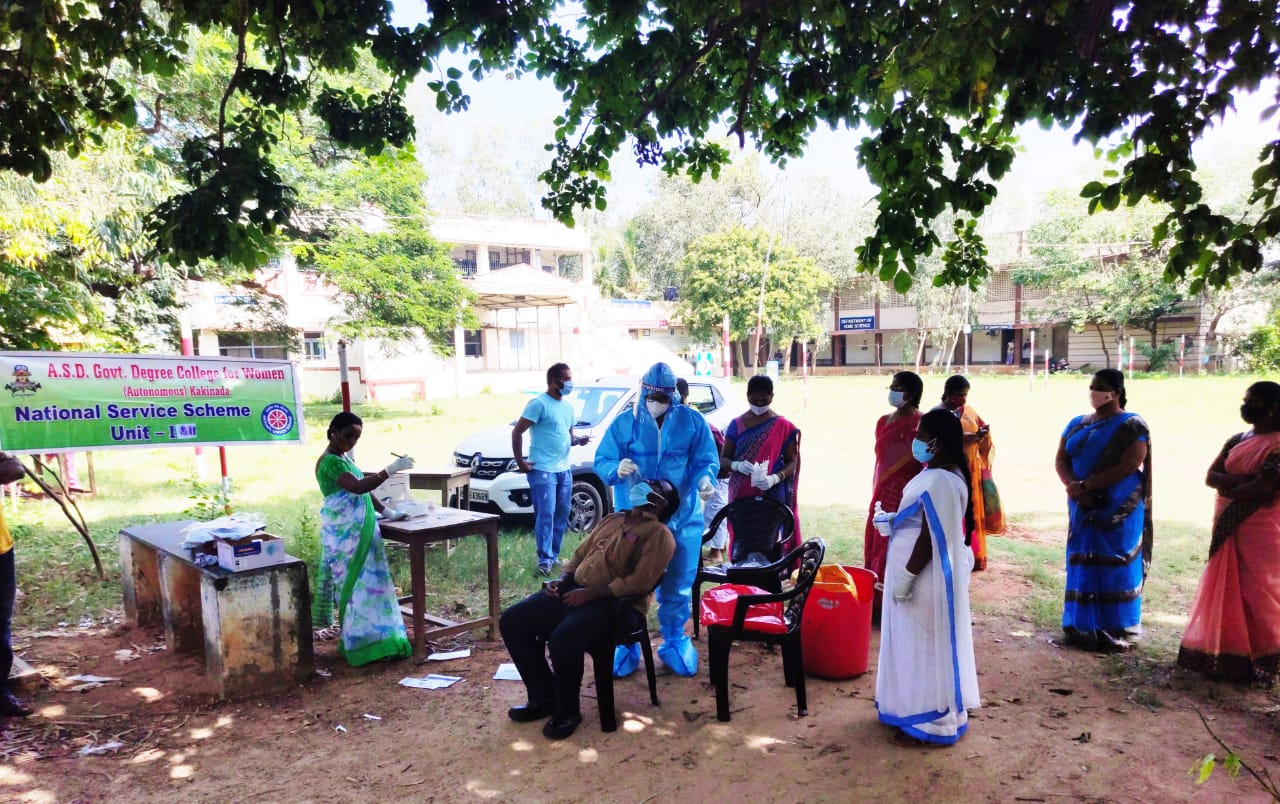 Covid-Tests in the College, Dec,2020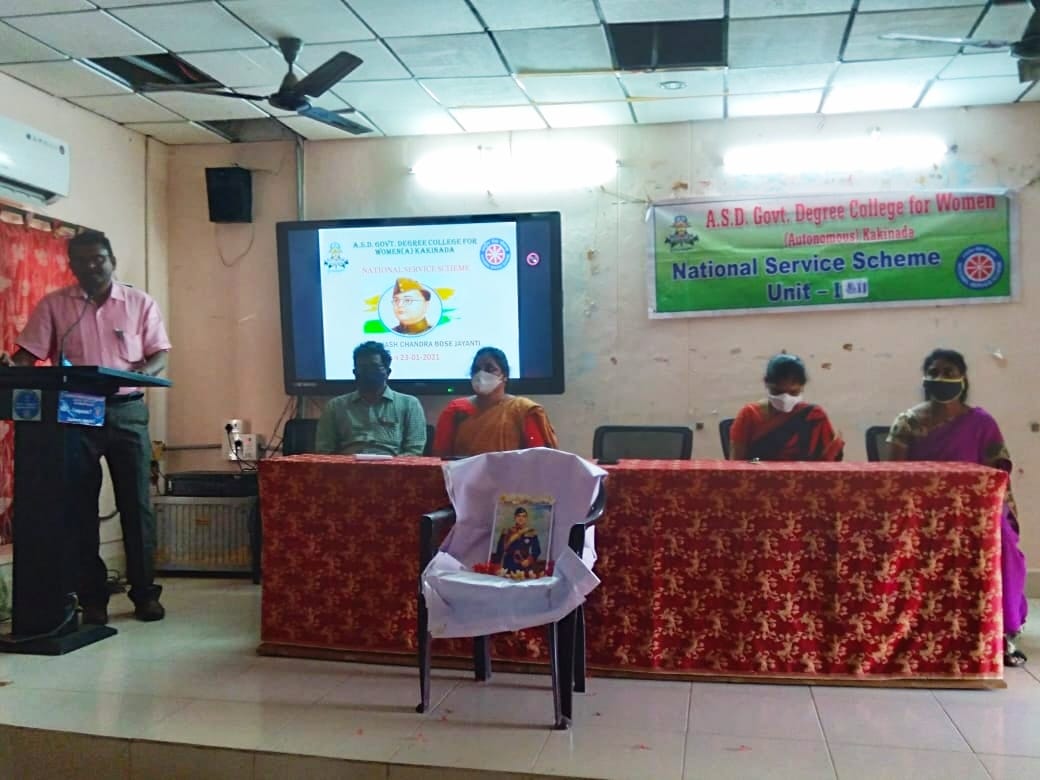 Celebrations of 125th Birthday of Subash Chandra Bose